Aunty Vi changed my life.
Now to say that Aunty changed who I am–that would be an over-statement. But truly, with her guidance and mentoring over some twelve years, Aunty aided me to become the person that I am; she guided me into realizing my fullest potential. Violet Hue set me on the path to discover my purpose in life.
Yes, thatʻs some heavy thought. Mana nui ka manaʻo. So who was this woman who gave Ric Stark such clarity and mission?
Violet Hanako (Kaʻaukai) Suzuki-Hue was born on April 16, 1925 in Kaueleau, Opihikau in the district of South Puna on Hawaiʻi Island. The grand-daughter of Kaliko Kaʻaukai, Aunty was born into a family of significant Hawaiian shamanic healing (kahuna). From many stories shared by Aunty, her two brothers Masa and Roy, and sister Chiyoko (Peggy), I pieced together threads of family history that reveal times and traditions quite different from what we know today.
Kaliko Kaʻaukai had high standing in the Hawaiʻi of her day. One story stated that Kaliko was one of the young women chosen by Queen Lilikuokalani to be one of her numerous hanai (adopted) children. After the young girl had moved from Kalapana to Oʻahu, her father so missed and grieved the absence of his daughter that he traveled to Honolulu, begged, and achieved the return of Kaliko to her home in Puna.
My personal business/ relationship partner, Allan Han, related his own memory of his great-grandmother. As a young boy, Allan was stunned in awe on one Sunday when the entire family attended services at Kawaihaʻo Church in Honolulu. As the family entered the sanctuary with Kaliko in the lead, the congregation stirred. Suddenly everyone rose to standing. As Kaliko proceeded forward, each person bowed in homage to the woman Allan knew as Tutu.
Aunty Vi never shared details of her kahuna training with me. I only sensed it and experienced first-hand the evident power of the woman, who took me under her wing and taught me the skills of Hawaiian quilting. Aunty did proclaim that her knowledge and tradition were private and secretive.
Aunty learned the craft of Hawaiian quilting from her grandmother Kaliko in Kalapana. Aunty recalled one room in the small house. The door was always closed and Aunty never knew what was inside. One day her tutu opened the door to the quilting room and told her to come in and help. Over several years, she learned and assisted in the cutting and basting of family quilts, which Tutu then quilted.
Aunty Vi discounted her level of mastery of Hawaiian quilting. "I learned quilting by observing my grandmother. I knew how to do it, but I never considered myself a master of Hawaiian quilting. Lei hulu (feather-lei making), now that I have mastered! But no worry, I can teach you Hawaiian quilting."
For the last thirty years of her life, Aunty Vi shared her knowledge by teaching quilting (American and Hawaiian) in senior centers in Hilo. I learned the art from Aunty at the senior center in Keaʻau.
Learning Hawaiian quilting from Aunty Vi has been a rare and treasured experience, which is difficult to translate into English words. I learned the craft in a traditional Hawaiian manner–more by experiential doing, less by verbal or classroom instruction.
During Tuesday morning "classes" at the senior center in Keaʻau, I learned to quilt. At the time, I always thought I was idling a morning away with light-hearted gossip and the always-hearty spread of Hawaiian and Japanese foods for lunch. Often, I was simply unaware that I was "learning." I would bring my quilt, work a few stitches, and ask a question or two of Aunty. I would pitch in and help with the group project of the day. But it always felt more like a social gathering than any kind of tutoring.
Aunty retired from teaching in 2005. Perhaps, it was only after Aunty's retirement that I realized how much had been taught–how much I had learned–how deeply this one Hawiian woman had touched and impacted the direction and purpose of my life.

While finishing the quilting of my second quilt in 2002, I was living in Hālawa Heights on the western edge of Honolulu on Oʻahu. The patterns for my first two quilts had been drawn for me by partner Allan Han. No longer in that relationship, I needed someone to draw the pattern for a yellow liko lehua quilt that I would make as a gift for Aunty Vi. What to do now?
My dear friend and fellow quilter, Betty Stickney, suggested that I join one of the classes of her teacher, Luika Kamaka. I knew Luika. I loved and respected her work. I also knew–ALL of Luikaʻs students quilted, using Luikaʻs quilt patterns!
But I was in dire need. With Bettyʻs encouragement, I approached Luika and asked if she would assist me in designing my quilt. She responded in her generous sharing manner, "Why, of course! Come to Enchanted Lakes on Tuesday evening and we will work it out."
I remember that first class so vividly. I brought a pad of drafting paper and some pencils. I sat down across the table from kumu. Luika asked me a couple of questions. Then she began to sketch. After a few minutes of her hand flowing with graceful ease, a pattern began to emerge. Luika glanced across the table and queried, "Like this?"
"Well, yes." I replied. "But I see the pattern more this way–like an ʻoʻo bird sitting on a branch in the ʻohiʻa forest."
Luika wrinkled her face and held my gaze. She had a peculiar look of questioning in her eyes. I remember thinking to myself, "Oh, oh! Iʻve done it already. The teacher is going to dismiss me and ask me to leave."
Suddenly, her expression transformed to one of inspired knowing. Luika placed all five fingers on the paper and then shifted it 180 degrees. Sliding the paper across the table and resting directly before me, she handed the pencil to me. Touching her hand to her heart, Luika exclaimed, "You have the pattern right here! You can draw your own design. I will watch you and guide you, but you will draw your quilt design."
So began some six long months of sketching and jotting and wadding up and tossing countless pieces of rejected sketches. It was agony. I wasnʻt an artist! I couldnʻt draw! I wanted to quit and go find a different artist. But I couldnʻt disappoint kumu. So I persisted… and persisted… and persisted.
Months later I was home alone on a Saturday morning. Suddenly I saw the whole thing clearly in my mind. Abandoning my Saturday tasks, I grabbed pencil and paper and sat down at my table. Pencil in hand, I began to sketch. Two hours later, I stepped back and beheld my first Hawaiian quilt design, "E Ō ka Liko."
Sometimes "thank you" is not enough. But what can I say? Luika left us in 2007. Over a thirty-year period, she taught hundreds of students in her classes on Oʻahu. As an artist, Luika created countless quilt patterns. All of them have her unique graceful flow in the design. Like the person, Luikaʻs patterns reach out to welcome and embrace with that gracious Hawaiian aloha.
"Luika, we all hold you in our hearts. Your students continue to stitch loving thoughts of you, our kumu in quilting."
Before she passed, I asked Luika, "What is your favorite flower?" She replied, "Oh, I love them all!" But she always wore a fresh hibiscus blossom in her hair. A few years later, I designed and quilted a hibiscus quilt. Luika Kamaka from Kohala is woven into each and every stitch of "Makai."

This adage aptly introduces Deirdra (Didi) McElroy, "When the student is ready, the teacher will appear."
In 2007, I was working on quilt number four. While my quilting skills had improved, I was frustrated that I was unable to achieve perfect, even stitches. Sometimes 10 stitches/ inch; never finer than 12 stitches/ inch. I ached to achieve a higher level of workmanship.
That spring I saw a flyer in Kona for "Quilt Hawaiʻi," an exhibition to be held in Keauhou in June. The flyer included class offerings. My eyes caught on a class titled, "The Perfect Stitch" by Didi McElroy. Early in my quilting journey, I had read (devoured) a book, "That Perfect Stitch," written by Didiʻs mother, Roxanne McElroy. I HAD to take that class!
We all have those moments that are caught in our memory with absolute clarity. Thatʻs how I remember Didiʻs opening remarks on the first day of class.
"Good morning, quilters! I am Didi McElroy. This class is "That Perfect Stitch." Before we begin, I need to speak a word about how I teach. Although it may not be true for all of you, I teach this class with the presumption that you are a quilter who wants to perfect your work. I presume that you as my student have a dream. You aspire that one day you will create a quilt that will be juried into the American Quilterʻs Society Annual Show in Paducah, Kentucky. This show is the ultimate goal for a hand quilter. Admission to Paducah means that you are working as a world-class quilter among the top 5% of quilters…"
I WAS HOOKED! Like a dry old sponge, I soaked up teacherʻs words in that class. With Didiʻs tutoring, I made giant leaps forward in my workmanship. I learned about squarely-woven fabrics. I learned about quilting hoops and Roxanneʻs thimble. I learned to achieve perfect points and sharp crisp valleys and evenly round circles. With Didiʻs guidance, I attained my long-held goal of even precise stitches at 13-14 stitches per inch.
One year later, I took Didiʻs class again. With two of my quilts entered in "Quilt Hawaiʻi," I needed a refresher class. I also signed up for Didiʻs class on Tahitian applique. (Through her mother Roxanne, Didiʻs family descends from a lineage in Tahiti.)
Frustrated with my applique of a kahili/fan quilt, I needed some guidance. I was one year in on a quilt that I wanted to dedicate to Queen Liliuokalani. But the fabric colors that I had chosen were flat. And I had problems with tension and stitching in my applique. I begged Didi for a one-hour private consultation.
That hour was transformative. After our time together, I put aside that $500 jumble of fabric and one yearʻs work already invested. I started anew. I poured everything I had ever learned into that new project. I commissioned Kathy Lukens, a fabric-dyer in Waimea on Hawaiʻi Island, to hand-dye a squarely woven fabric in bold colors of a regal interpretation of the monarchyʻs red and yellow.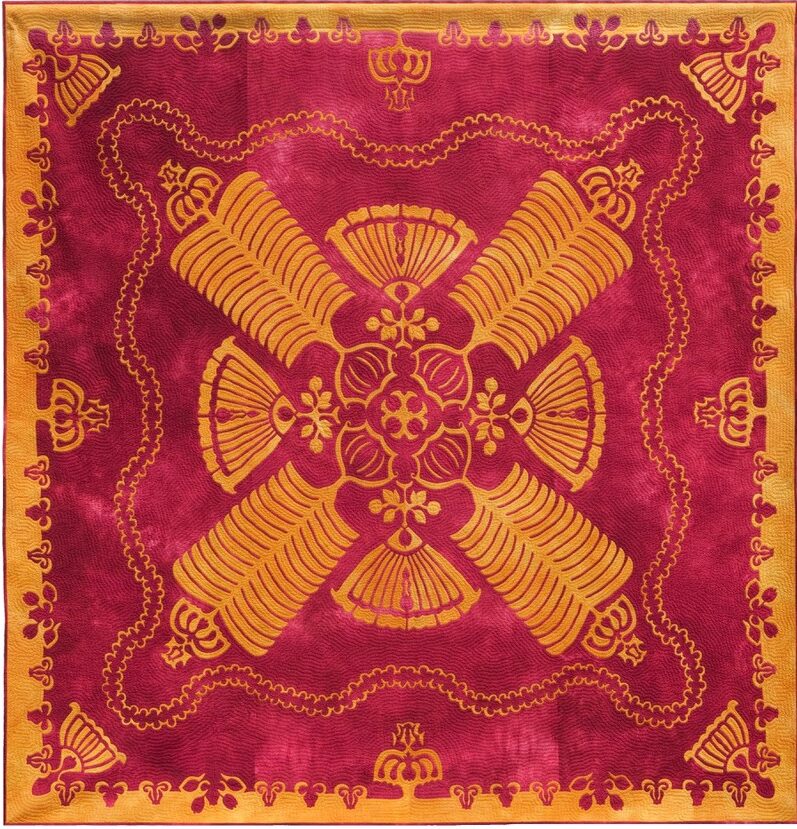 What a reward for those hard-won decisions to start over! Three years later I completed the finished result, "He Pua Kalaunu o Liliu." In April, 2012, I accompanied my Mom and my brother to visit the American Quilterʻs Society Annual Show in Paducah, Kentucky. Among the bed-size hand-quilted honorees was the quilt I had dedicated to honor Hawaiʻi's Queen Liliuokalani.
With that honored accomplishment, I hope that I am acknowledging and thanking Didi McElroy, as well as all of my kumu kuiki (quilt teachers), who continue to encourage me to "strive for the summit." Kuli    a i ka nuʻu.

With that motto, "Kulia i ka nuʻu" (Strive for the summit), I identified one other hurdle to cross in my reach for quilting perfection. By 2013, I had achieved "that perfect stitch." I had reached my lofty goal of having a quilt juried and exhibited in the worldʻs premier quilt show. I had begun a bulletin board on a wall of my home that showcased awards that had honored my quilts.
Another challenge presented itself–my applique stitch. I had learned and practiced needle-turn, hand applique in the manner taught to me by Aunty Vi. I used an overcast stitch.
"Needle straight down 'off the cliff' into the background fabric…forward…then up through the outer edge of the applique fabric." My applique stitch worked. Using thread color to match, the edges of my applique were tight, even, and nice.
But "nice" wasn't what Ric wanted. In the previous couple of years, I had observed and seen the applique of other hand quilters. Among the best of them, the applique thread disappeared. I simply could not see the stitches! Contrasting to my own overcast stitch, I knew that I needed another kumu.
Nancy Lee Chong was the owner of Pacific Rim Quilting Company, based in Oregon. But just when I needed it, Nancy was scheduled to teach an applique class at the shop of my dear quilting companion, Donna Masaniai. In the summer of 2013, I drove thirty minutes from home to Pahala, where I spent two days in a workshop with Nancy.
It wasnʻt easy. It didnʻt come in a snap. But determined as I was, by the end of day two, I held aloft my small project, "A Queenʻs Philodendron." My applique stitches were perfectly invisible. I had learned how to bury the needle and pop it out exactly in the fabric fold.
Thank you, Nancy! Today, my applique stitches are tight, even, and INVISIBLE!