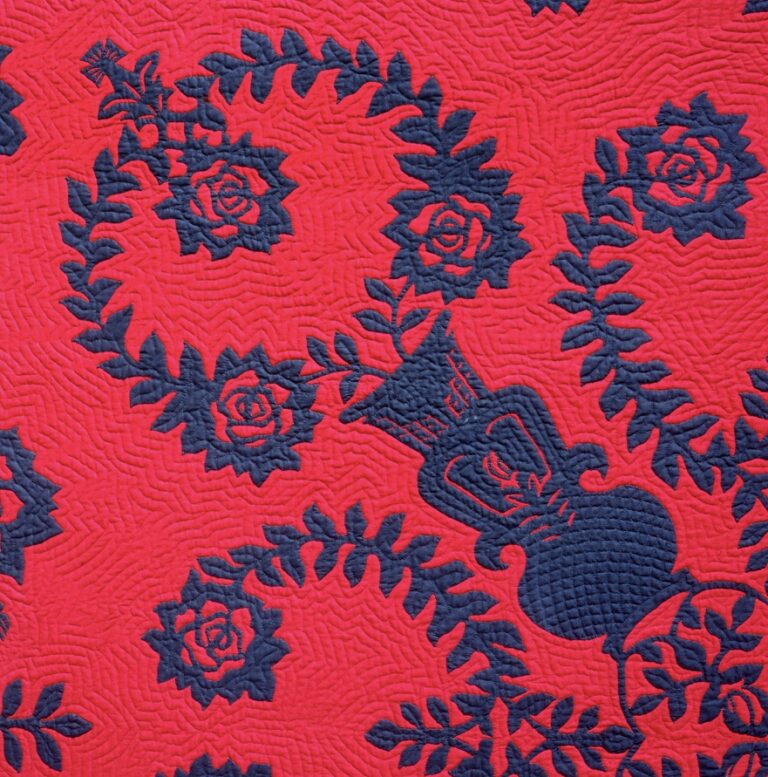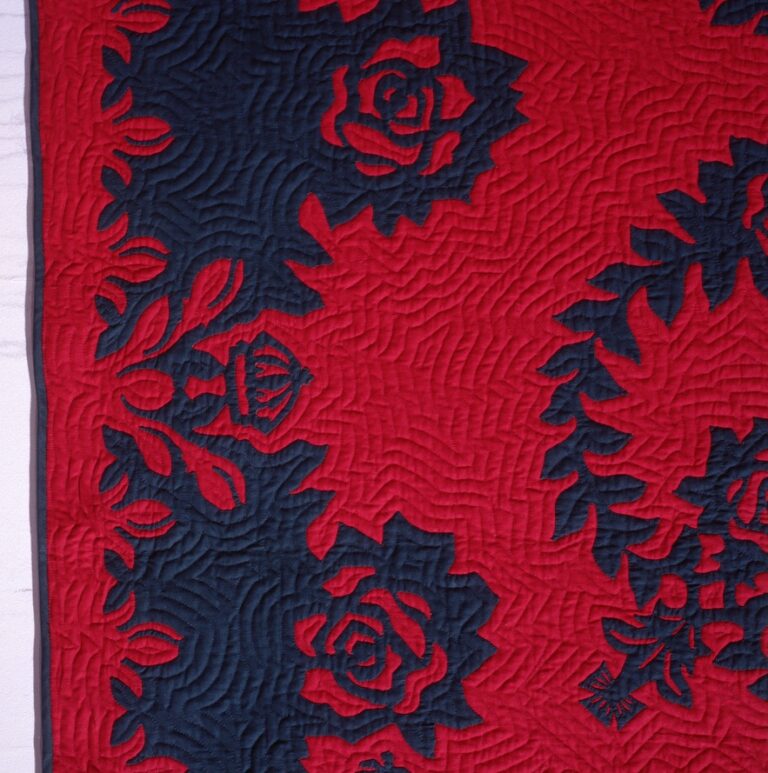 He Mala Pua Loke o ka Wahine Mōʻī
"The Queen's Rose Garden"
100% Kona Cotton
109" x 108"
Completed April, 2001
* Design by Ric Stark and Allan James Han
* Quilting by Ric Stark
* 109" x 108", 100% Cotton/ polyester batting
* Completed April, 2001
* Hawaii Quilt Guild Annual Show, Honolulu Musuem of Art, 2017:
Best in Show— hand quilted
                    First place, Viewers' Choice, Large quilts
The very first bed quilt (kapa moe) of Ric Stark, this quilt was designed and quilted for Ric's mom, Marge Stark of Charleston, Illinois. Mom's favorite flower (she loved them all!!!) was her prized Mr. Lincoln rose. Her rose garden received countless accolades and was the source of many Sunday floral bouquets in her Ashmore church.
The quilt also honors and pays tribute to Hawaiʻi's beloved Queen Liliuokalani.  Unknown to Ric at the time of its creation, this first quilt has become the inspiration for Ric's mission "to create a collection of quilts, honoring the life and legacy of Queen Liliuokalani."
HE MALA PUA LOKE O KA WAHINE MO`I
Every quilt has a story. He Mala Pua Loke o ka Wahine Mōʻī is no exception. I have written the full tale of the quilt, and I am happy to share it with you.
The quilt is available for sale. The price of this artwork is $40,000.00.
If you are interested in learning more about the quilt and a potential sale transaction, please contact me, using the "Contact" menu option.
I have set up a "back room" on the website to facilitate any sale's transaction and to ensure the satisfaction and safety of both buyer and seller. Thank you for your interest. I look forward to further discussion.
Ric d. Stark